Jack Attack starts October 24th
Come along on Wednesdays and join in the fun of Jack Attack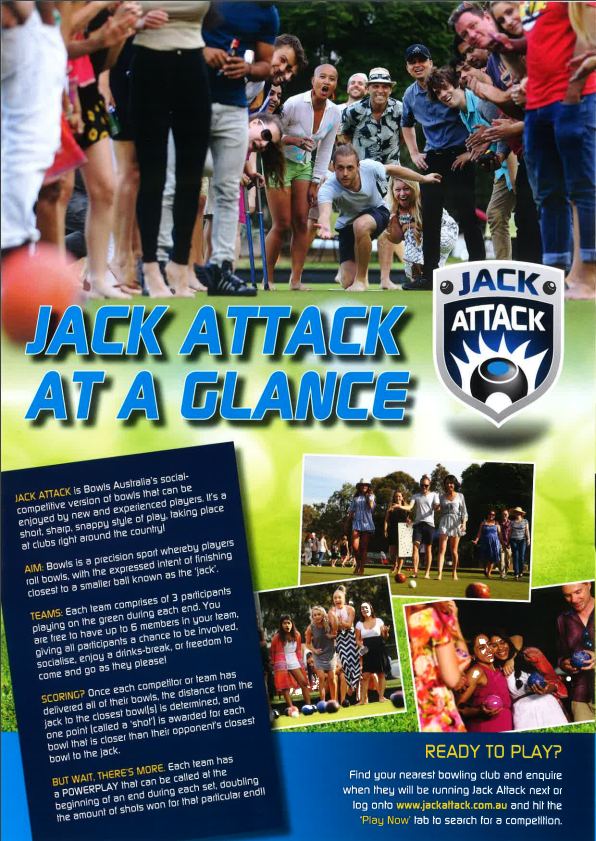 Contact: Kate manager@melbournebowlingclub.com or 9510 5321
Social / barefoot bowls -BOOK NOW for your CHRISTMAS PARTY
The rush is on to book a time for your corporate Christmas party at the Melbourne Bowling Club.

Always a popular venue for staff to gather to mingle and celebrate the year just been. The popular Thursday and Friday times are filling fast.

In addition to bowls, the club can provide a straight forward BBQ through to fully catered three course meals from our fully renovated commercial kitchen as required.

We have been a leading venue for social, corporate, barefoot bowls or bowls related parties ever since "Cracker Jack" was filmed at "Cityside" aka The Melbourne Bowling Club.

Ring Kate on 9510 5321 or email manager@melbournebowlingclub.com to book today.
---
Click here to register your side for the R.G. Watson Trust
Click here to register your side

Jack Attack goes for 6 weeks. 5 weeks of comp and last week (28/11) for finals for all teams
Playing for the prestigious "Busted Nut perpetual trophy".
$30 per week per team or $150 ($30 discount) when paying in full prior to first week.
BBQ– sausages, onion, bread condiments provided.
Drink specials — Mega jugs (6 pots at a special price)
Spread the word to beginner, social, barefoot bowlers.
6 for 6:30pm start. Maximum of 16 teams

FORMAT OF PLAY
Two bowl triples (with teams able to be registed for more players to accommodate for absentees and/or busy working lives).
Substitutions permitted.
Two sets of five ends with a sudden death tie-breaker if needed.
Approximately 60-75 minutes in duration for a match.

Contact: Kate manager@melbournebowlingclub.com or 9510 5321

---
---
Who is the Melbourne Bowling Club
The Melbourne Bowling Club is more than just a bowling club it is a social club! It is arguably one of the most successful bowls clubs in the Metropolitan region with six premierships and seven runners up titles since 2000 in the Premier Division competition along with three State champion titles.
Not interested in bowling become a social member and enjoy the benefits of a relaxed friendly environment and members prices. It is becoming the gathering place for Windsor locals who like to have a quite break from the hurley burly of Chapel Street.
A place to drop in during the week after work before heading off down the C street.
Alternatively looking to have a function that is number one for breaking that awkward silence when acquaintances or work colleagues meet for the first time at a social occasion then barefoot bowls is for you!
---
Pay your membership renewals online