Melbourne Bowling Club was established in 1864 and is the oldest bowling club in Australia, and one of the oldest in the Southern Hemisphere!Conveniently situated in Windsor, only a few metres from Chapel Street, close to public transport, the club is a busy and thriving establishment with many members both young and old. The club provides a wide variety of bowls experiences, from competitive pennant competitions, to tournaments and social bowls. As well as 4 bowls greens, we offer a wide range of facilities to cater to any function, large or small. Together with our friendly staff, we are here to assist you in planning your event as well as enjoying your special occasion at our club Melbourne Bowling Club was the major location site for the movie 'Crackerjack' starring Mick Molloy – it has gone on to be one of Australia's highest grossing movies.
Pay your membership renewals online
---
Eric out and about
Good to see Eric back up and about again around the club on Tuesday (25/7) along with his brother Alan down from Sydney for a few days. If you can't catch up with him before he will be at the Christmas in July and Trivia night on Saturday along with about 90 others.
---
Thursday night carpet bowls
Next round of carpet bowls kicks off from about 5:30pm on Thursday night. State representative Fluffy will be there to give the new carpet bowlers (the rest of us) some useful tips on the finer points of the game. Don't miss a fun couple of hours.
---
Wednesday night at the club
Some of the members at the club on Wednesday night to have a drink with Geoff Maher who is on his way from some 'home and away' sounding place called Sunrise Beach in Queensland to Thailand.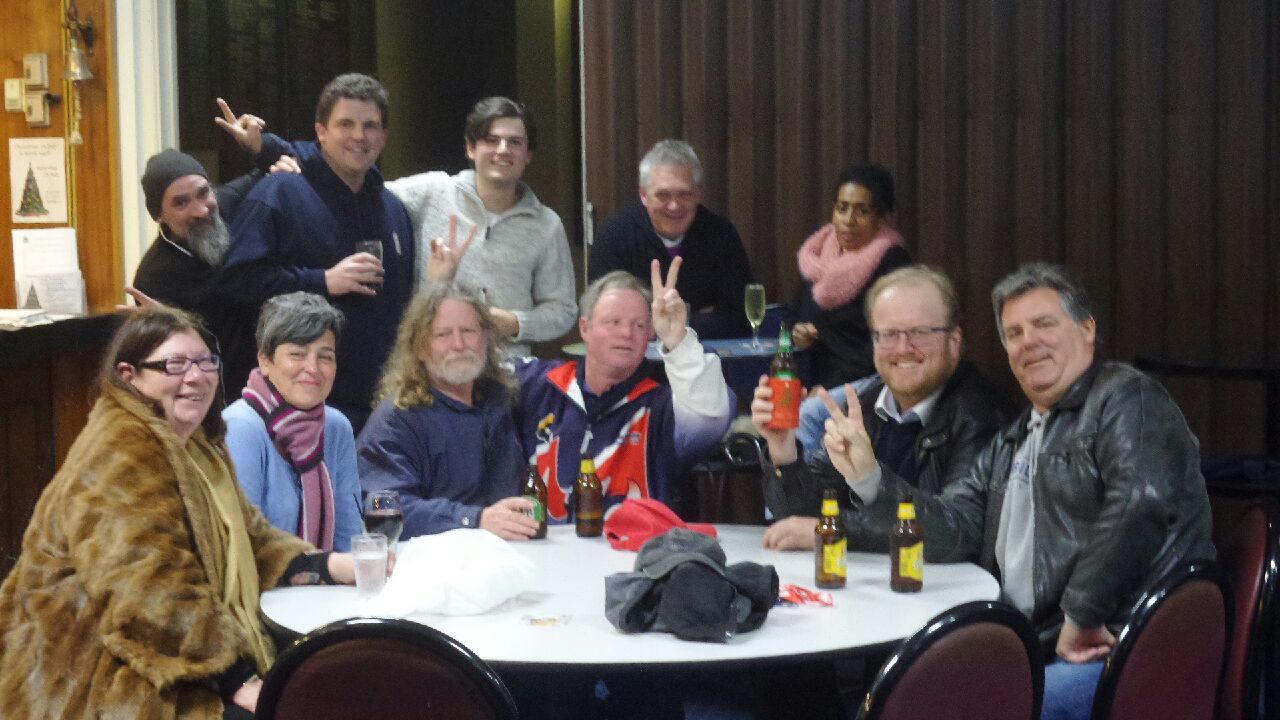 Back row: Digger, Fluffy, Declan, Alan, Kini Front row: Mel, Janine, Jacko,Lucas,Whitey, Geoff (the loud one!)
---
Member looking for replacement partner for pairs
Dean Thomas is looking for a replacement for the Bendigo pairs on the 26th – 27th Aug as his team mate has pulled out. If you are interested you can contact Dean through the club.
---
Saturday social bowls sunny and competitive
The weather was kind yet again with more sun than cloud being evident.
The usual regulars were there along with visitors from Perth, Deb and Ray Povey past president of Mt Lawley . They have joined in previously when visiting their son in Melbourne. Also Alan Burness (after a three year layoff and keen to come back and get the darts team up for the summer comp to regain the championship status of previous years) and Jason Brooks who is committed to Keysborough but still has a soft spot for the club rounded out the four teams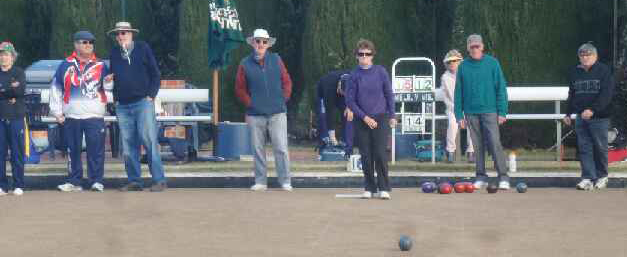 .
(L to R) Viola, Whitey, Bill, Jack, Timothy (bending over) Deb Jan Keith and Ray
Jacko and his rink of Whitey, Janine and Viola did not have a great day out just missing on hitting double figures, going down to Jason, Alan, Bill and Kev. Kevin O with Jack, Deb and Jan showed the Pres and his rink of Timothy, Ray and Keith a clean set of number going out to 10 to 1 lead before finishing up 23-17 The banter/sledging was of an excellent standard throughout the afternoon.
More welcome for an enjoyable 3 hours of bowls on a winter Saturday afternoon. Front up by 12:45 pm for a 1pm start. $5 entry and bottle of wine each to the winners
---
Welcome more new members
Hamish Clayton, Cameron Gastin and Lachlan Powning have joined as junior members as they are taking the next step having been bowling successfully in the schools competition over the last couple of years for St Kevins.
Also joining the club are Rafael Graham, James McCarthy and Toby Walker. They have had a taste from barefoot bowls and want to take it to the next stage and become regular recreational bowlers. Having spied them on the back greens they are already good enough to don the Demons top and play pennant. Let's hope they do.
Rosiland Gowens has joined our ever growing social member base. We are looking forward to seeing her in the club regularly.
I'm sure as always everyone will make them welcome when they come down to the club.
---
Latest on Eric Hughes
Eric is now at the Caufield repatriation hospital in Kooyong Rd. He is coming good after a rugged 6 months with cemo etc. Eric will be there about 10 days and is hitting the gym twice a day to get a kick start on building up his strength and weight which took a battering with the treatments. Eric is looking quite debonair having got his colour back and also sporting his newly growing beard and mustache. He is located in the repatriation section c bed 15 if anyone is down that way.
---
Carpet Bowls – Off and bowling
Thursday 13/7 a scratch competition was organised from 5:30pm to 7:00pm. Competition was fierce with Kevin taking the president down in the first game of the night. Andrew then dispatched Timothy with Sue maintaining her form of last week's practice showing Lucas how it is done. Jade stepped up to replace Ric who got side tracked somewhere and showed some style and professed to be somewhat hooked. Pres made it through the repercharge and had a rematch with Kevin in the play offs. This time coming out on top. Andrew played Sue for the other position in the final. Sue pushed Jacko but he managed to get over the line. The final was a somewhat quick affair with Andrew a clear winner from the Pres. Next week Andrew will be defending his title against all comers. It was greatly enjoyed by everyone there and it will definitely be on again next Thursday.
Come down to the club for a very sociable one and half hours.
---
The Bowls Show filmed at Melbourne
Two episodes of The Bowls Show were filmed at the club Wednesday last week (5/7). These episodes will be shown on Sunday, July 30 and Sunday, August 6 at 3.00pm on SBS. Spread the word.
---
Carpet bowls is coming (returning) to Melbourne
Carpet bowls is returning as a Thursday night event during the winter months. It was last seen at the club about 30 years ago. Peter Curwen-Walker, Doc Pearson or Gordon Lowing might be able to put an exact date on when it was last played here.
Anyway one of the carpets was out last night (6/7) and amazingly the moths had left it alone. It was given a trial run under the watchful eye of the expert Fluffy. He also managed to provide a few tips to the likes of Andrew Jackson, Kevin Lehan, Keith Stevens and Ric Lawler. The stand out carpet bowler of the future looks like it might be Sue Cole who cleaned up the Pres in a head to head.
As from next Thursday (13/7) there will be a scratch competition starting at 5:30pm for everyone that is interested. Cost is buying yourself a drink at the bar.
Fluffy showing Timothy different delivery styles
---
Welcome to new members
The board are delighted to welcome Paul Titcombe and Jan De Teste to the club. Paul comes from Clayton and should help strengthen our top half, while Jan is a new bowler transferring from Kyneton via Toorak where she had a short stay. Jan has been bowling on Saturdays as well as coming down during the week and has already proved to be keenly competitive. Welcome to both of you.
---
Gordon – New chairman of selectors
The match committee had its first meeting on the 1/6/17 and selected Gordon Lowing as the chairman of selectors for the coming season. He leads the intrepid band of Greg Hogan, Ron Jackson, Grahame Fraser and Sean Ingram who intend to take all before them in 2017-18. The four teams will be in Premier Division, Division 2, Division 4 and Division 5.
In the Sandbelt region there has been a 9.6% drop in membership over the last three years. Average membership of the 42 clubs in the region last season was 86.9 Bowls Vic members. Melbourne was slightly above this.
We currently hold the State and metropolitan pennant titles but need to make it our aim to be at least 20% above the Sandbelt average for Bowls Vic members. That means the target is at least 105 bowling members for the 2017-18 season.
It is a conundrum that although huge numbers have now experienced bowls through the barefoot 'Cracker Jack' experience competitive bowls is shrinking. The match committee and board encourages everyone to make it their priority to buck the overall trend.
---
Time to manicure the greens
Our long standing green keeper

Brett 'Cutter' Leighton

has been busy over the last couple of weeks of May aerating, top dressing and fertilising the Campbell and Watson Greens to ensure that they are in pristine condition for 2017-18 pennant season.It is now up to the members to spread the word that the

best place to bowl

is

The Melbourne Bowling Club

. Get busy and sign up your friends. New bowlers to Melbourne have their membership fee of $100 waived for the the first season.