Awareness of pancreatic cancer is being held on
Sunday 27th January 2019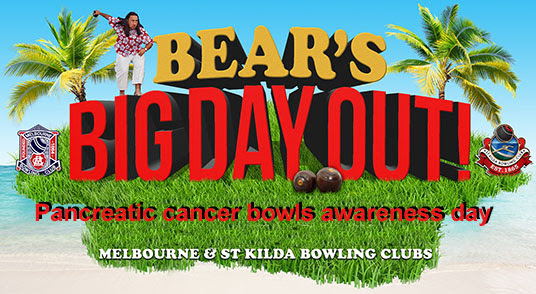 Melbourne Bowling Club [138 Union St Windsor]
&
St Kilda Bowling Club [66 Fitzroy St St Kilda]
are hosting the event
Bear's Big Day Out
on Sunday 27th January 2019
The day will start with breakfast and registration at St Kilda Bowling Club at 8.00am
Cars can be parked at St Kilda Bowling Club and buses will provided to transport players between St Kilda and Melbourne Bowling Clubs over the course of the day.
The format is a 4's tournament throughout the day spread over the two clubs.
All entries will be single entry and teams put together.
Every game you will move so you get to play with different people.

Bear's family will be cooking all day so you won't go hungry.
The day will conclude will a presentation and smorgasbord dinner at Melbourne Bowling Club.
Theme for the day is Fijian lovo (like the Maori hangi)
The cost for the day will be $45.00. Non-bowlers cost will be $20.00 for lunch and dinner.
If you, your business/employer or your club can help out with any donations to go towards the raffles and prizes it will be extremely appreciated. You can donate as you register or contact us via email: thebearsday@gmail.com
REGISTER NOW
MBC Birthday Fours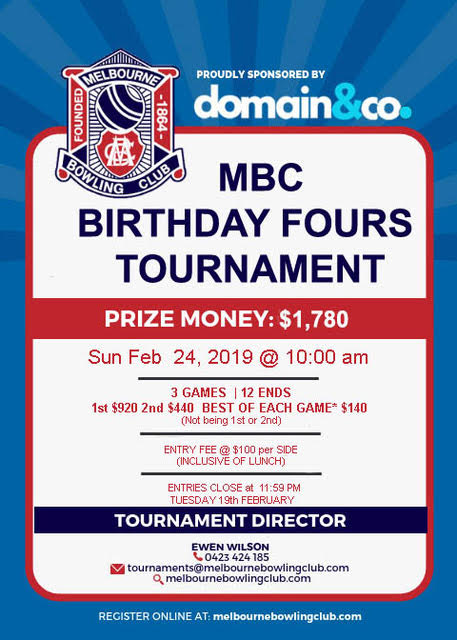 Register Now
---
---
Who is the Melbourne Bowling Club
The Melbourne Bowling Club is more than just a bowling club it is a social club! It is arguably one of the most successful bowls clubs in the Metropolitan region with six premierships and seven runners up titles since 2000 in the Premier Division competition along with three State champion titles.
Not interested in bowling become a social member and enjoy the benefits of a relaxed friendly environment and members prices. It is becoming the gathering place for Windsor locals who like to have a quite break from the hurley burly of Chapel Street.
A place to drop in during the week after work before heading off down the C street.
Alternatively looking to have a function that is number one for breaking that awkward silence when acquaintances or work colleagues meet for the first time at a social occasion then barefoot bowls is for you!
---
Pay your membership renewals online