2017-18 Round 11
Round 11 teams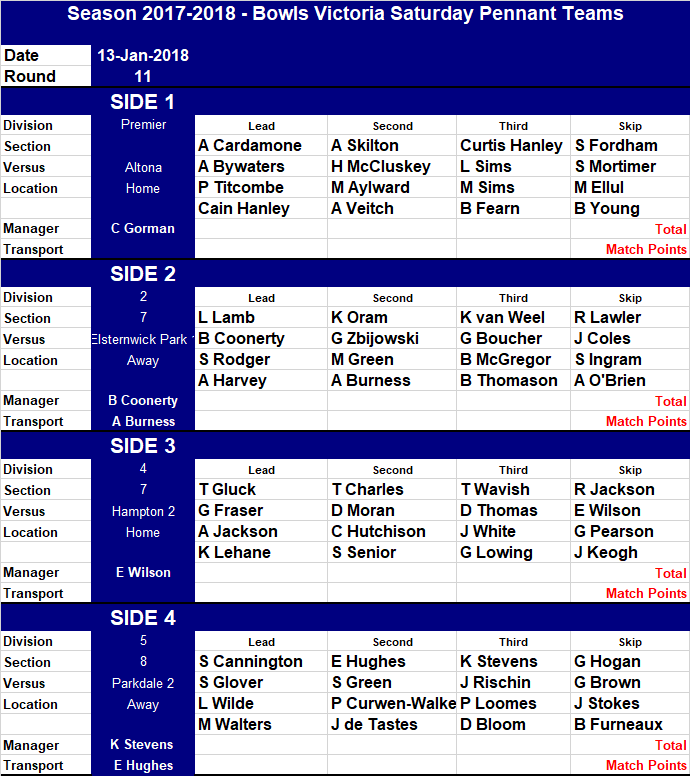 Above team selection valid as of 6:43pm Thursday 11/01/2018
Round 11 results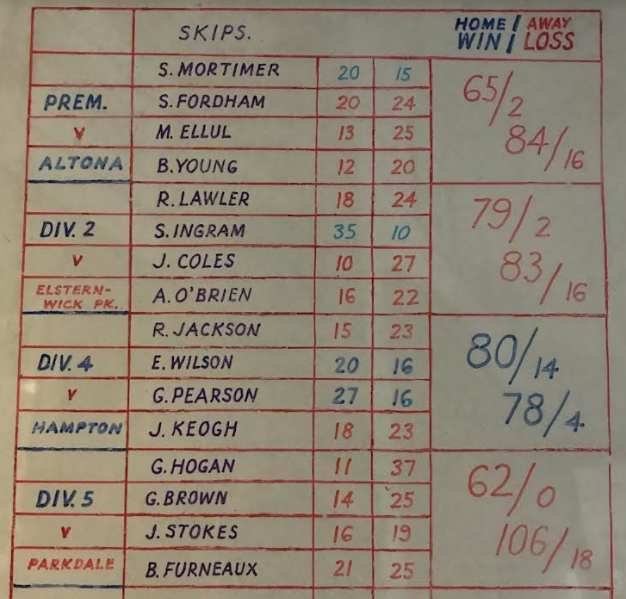 Round 11 summary
Not the best day for Melbourne in the wet and soggy conditions.

With the only win going to the third side. First time they hit the lead was as a result of the bowl count on the last end of the day. Ron's rink had been struggling all day but came home strongly as did the other rink teams. It was enough to win on the overall score board by 2. Great leading by Trevor G on the last end with his two bowls close to jack followed up by Timothy C, Trent W and Ron circling the jack and keeping the opposition out for a score of 4. Final result from two down on the big board to two up. A great performance by everyone not to fight to the very end.

Premier division got to within one of Altona but were blown away in the final ends on our home turf. It is now one all for the season with Altona. As always very competitive with the other giant of premier league.

The second side with a big loss still maintains a 26 point buffer over third placed Bentleigh but gave up top spot to Middle Park.

The fourth side although in eighth place has a significantly better percentage than the two sides above and below them.
The Glasses for the best win in Round 11 go to Sara Rodger, Matt Green, Barry McGregor and Sean Ingram. Glasses to be presented Thursday evening.
Results
Premier
Team results 20-24, 12-20, 13-25, 20-15 overall 65/2 -84/16