2017-18 Round 13
Round 13 teams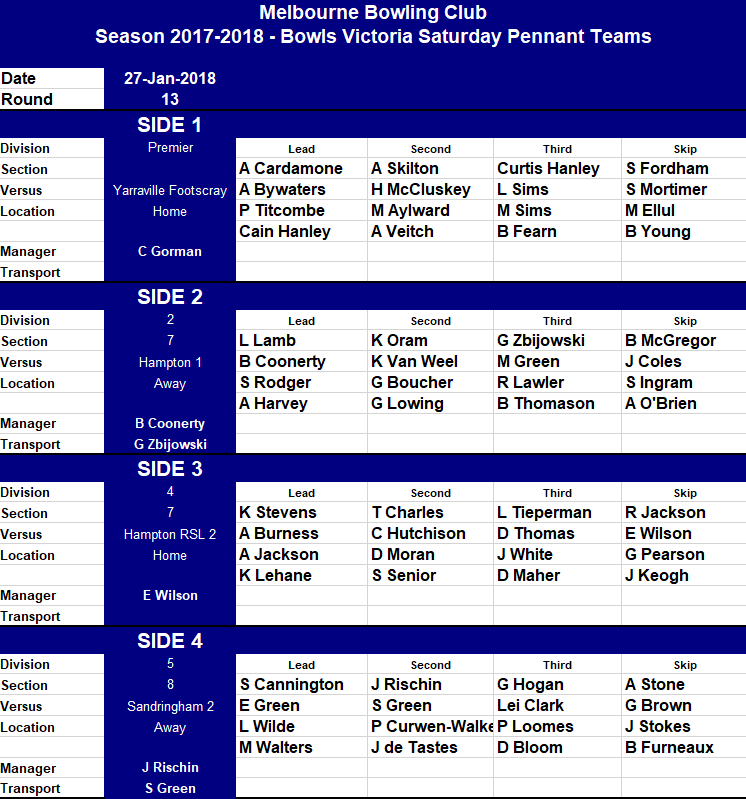 Above team selection valid as of 9:46 PM Thursday 25/01/2018

Away Transport

Round 13 results




Round 13 summary
Div 2 had a huge win by 60 shots scoring the full 18 points and so consolidating their position at the top of the ladder. Premiers after a slow start had a convincing win by 19 shots picking up 16 points and Div 4 split the rinks and won overall. The Fourth side also split the rink results but went down by 10 shots, However they still have a healthy 20 point buffer over 9th place.
The glasses for the week
There was extreme competition for top scoring team of the week. Fluffy's team of Sara Rodger, Geoff Boucher and Rick Lawler tripped at the last hurdle with 2 shots down bringing their overall lead back to 19. They were not happy as they were gunning for a second set of glasses. This let Arnold O'Brien's team of Ash Harvey, Gordon lowing and Ben Thomason with 20 up and Irwin's team of Alan Burness, Chris Hutchinson and Dean Thomas who picked up 2 on the last end, in to share the trophies for the best results of the round. Great bowling to all three teams.