2017-18 Round 17
Round 17 teams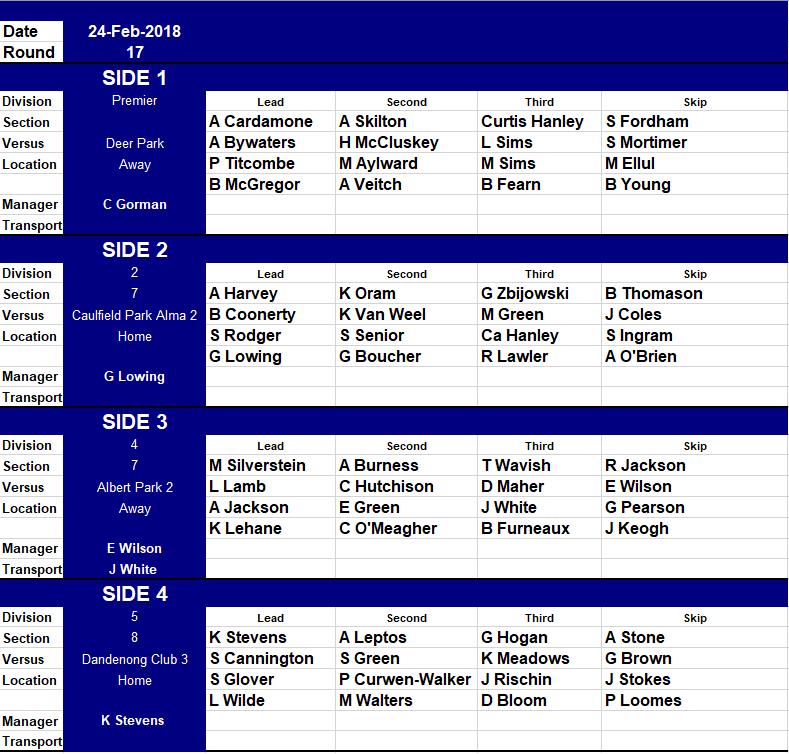 Above team selection valid as of 1:59am Thursday 22/02/2018
Round 17 results




Round 17 summary
This week's round up.
The Premier Division side bounced back with a strong win (3 rinks up) against fourth placed Deer Park away on carpet. They also had the top team for the week with Shane Fordham's rink winning by 16 shots to collect the glasses. Well done Shane,Angelo Cardamone, Alex Skilton and Curtis Hanley. To secure a top two position we need to beat Lilydale at home convincingly to ensure the fast finishing Clayton (3 points behind in 3rd) don't displace us.
Although Division 2 lost at home we managed to gain 2 points on second placed Middle Park. A win this week will ensure we finish the season on top. The third side managed the third loss on the trot. The season has been hot and cold with some big wins then unexpected losses. Can the third side finish the season on high with a good win at home?
The fourth side has been the revelation of the season with another big win with three rinks up. Last year we struggled to field a side now with new bowlers being blooded and picking up the skills quickly, we have moved from being worried about relegation at the half way mark to being now in sixth place with an outside chance of making fifth with a win against Brighton at Brighton on the carpet. Can the fourth side make it four wins in a row?

Let's finish the season the way we started with all sides up and a President's shout.