2017-18 Round 6
Round 6 teams



Above team selection valid as at 1pm Saturday 11/11
Round 6 Results
leading rinks for round 6 are:
Angelo Cardamone, Mark Aylward, Bryce Young, Matt Ellul – Prem div with + 18
Andrew Jackson, Lei Clark, Justin White, Graeme Pearson – div 4 with + 11
Paul Loomes, Eric Green, Leigh Tieperman, Gary Brown – div 5 with +9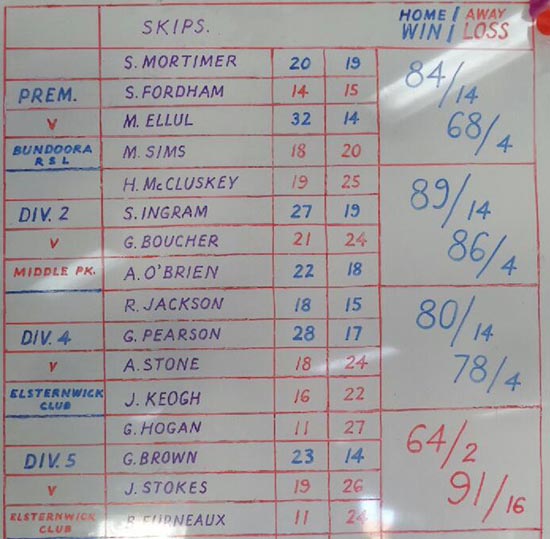 Round 6 Summary
Three out of four wins. Two wins were sealed on the second last bowl of the day with skips Fluffy Ingram and Jack Keogh stepping up and making hero's of themselves turning defeat into victory.
Hero status one — Division 2 Fluffy
Against ladder leaders Middle Park on their turf, Fluffy was one d0wn on the last end with the second last bowl of the match in his hand. On the main scoreboard Melbourne was also one down. We had a number of seconds. His first drive had missed, He drove again. Half way down he started yelling I've got it, I've got it. And he did!!! From 1 down to four up and three up overall. Now the wait for Rob Briglia's last bowl…. found the gaps … missed everything. The rest is history!
Hero status two – Division 4 Jack
One end to play scores level with Elsternwick Club 2, we had been behind all day and closed a significant gap over the last 16 ends. Melbourne had the shot just off the jack.
The opposition skipper with the perfect upshot took it out and stayed put, despair from the Melbourne supporters, now down one shot overall. Jack with his last bowl had to take it out. The "Ron Cross walkway" was packed. Jack calmly delivered his brown bowl, took out the shot bowl clean and stopped dead for two shots up. The crowd erupted, but with still one bowl to come silence quickly descended. The bowl came down wide, even greater celebration – the first time Melbourne was ahead for the day was on the second last bowl of the day!
Two Epic wins.
Melbourne is consolidating their position in the four in three of the four sides. Refer below for details.
No pennant next week as it is the the first day of the Victorian Open in Sheparton.