2017-18 Round 9
Round 9 teams

Above team selection valid as of 6:00 pm Thursday 7/12/17
Round 9 results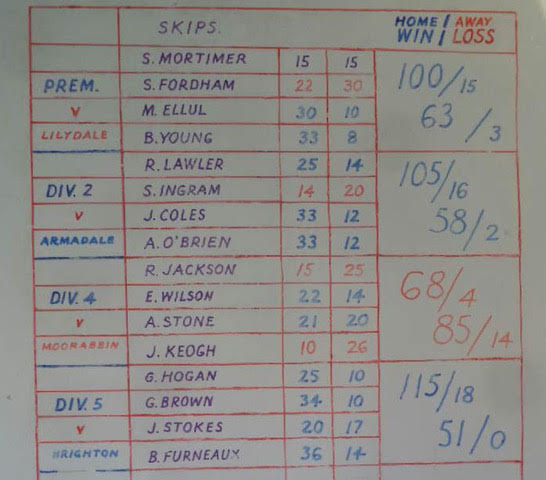 Round 9 summary
Three BIG wins out of four. Premiers by 37, Div 2 by 47 and Div 5 by 64. Third side after a quick start were gradually pegged back from just before the break to go down by 17.
The big move of the day was Div 5 who were up at the break by about 10 and then stormed home keeping Brighton to 8 additional shots while they piled on 62 to win by 64 overall. All teams in the side were up, but the big numbers went to Bill Furneaux's rink with 22 up which was out done by Gary Brown's rink of Grahame Fraser, Eric Green and Chris O'Meagher 24 up. You'd think that would be enough to be the top rink for the week BUT NOT this week. Bryce Young and his rink of Cain Hanley, Barry McGregor and Ben Fearn getting 3 on the last end slipped past with a total up of 25.
The members of the winning rink will get their glass pots with a choice of tap beer next Saturday.
Top three rinks were
Cain Hanley, Barry McGregor, Ben Fearn, Bryce Young
– Premier Division : 33-8 — 25 up
Grahame Fraser, Eric Green, Chris O'Meagher, Gary Brown – Division 4 : 34-10 — 24 up
Max Walters, Jan de Tastes, David Bloom, Bill Furneaux – Division 4 : 36-14 — 22 up
There were also two rinks with 21 up.
At the end of the first round both Premiers and Div 2 are a clear second with 19 and 30 points clear respectively of the third placed team. Div 4 is close between second to sixth places with Melbourne currently fourth. Making the four is up to how the side perform as a group in the next nine rounds. Div 5 is the pleasing story now up to seventh after a slow start. The new bowlers are starting to get the hang of what pennant is about and more wins should be in store.
Great positioning of all teams after the first complete round. We have all to play for in all grades.