Hi all Demons,
Here is a quick(ish) update of Melbourne players at the Australian Open this week. I
think I have given myself an injury with all the clicking thought the results portal to compile the
information below.
Well done to all for representing the Red & Blue proudly on the Gold Coast and best of bowls to all
players remaining in the competition. If you wish to find out more, please follow the link below.
Also please note that there is live streaming of some of the current matches and will be coverage of
all finals over Jun 13-14 via Facebook streaming, SBS, Kayo and Fox Sports. Again, follow the links
below to find out more.
https://www.facebook.com/pg/BowlsAustralia/videos/ – Live streaming BA Facebook
https://www.bowls.com.au/2019-australian-open-broadcast-schedule/ – List of finals broadcasts
Go Dees!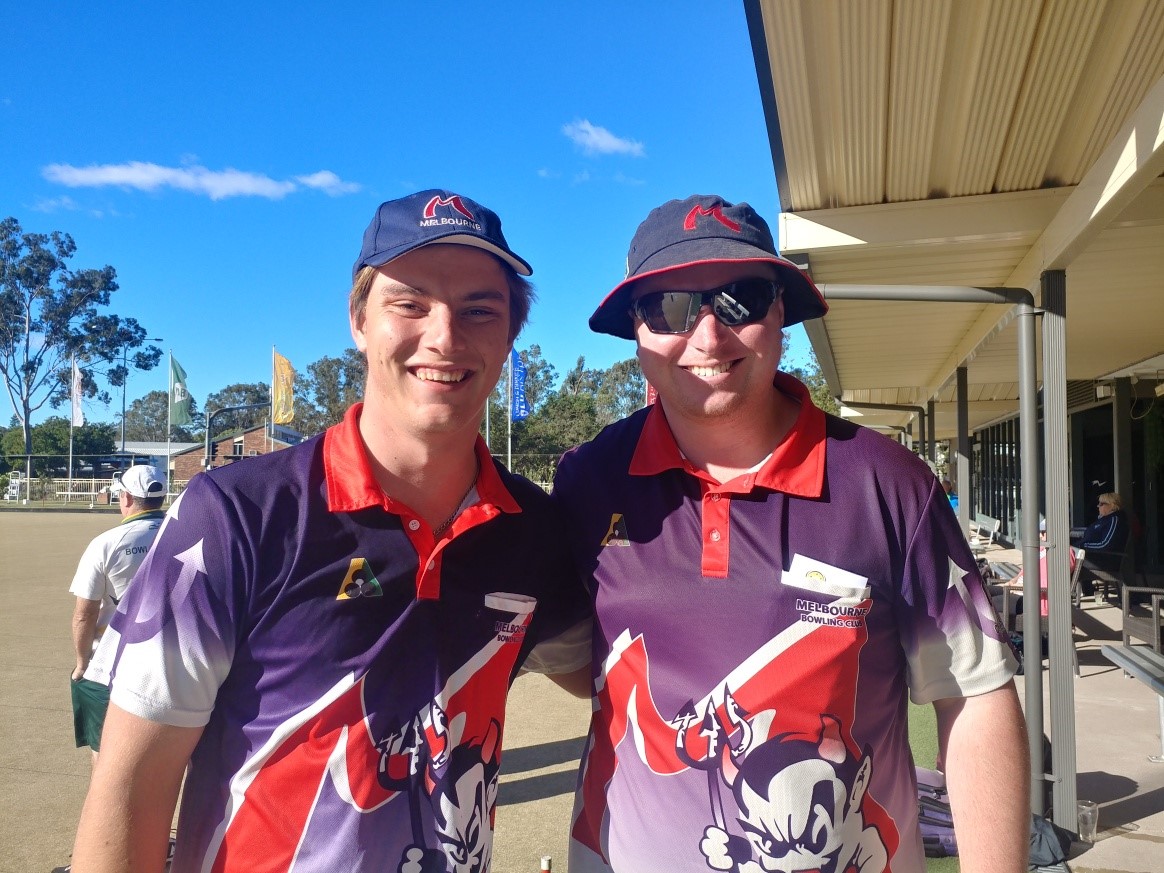 Curt & Simsy – Rockin' the Red & Blue on the GC
Men's Singles Sectional Results
Section 94 Jerome Coles – Section Winner
Section 101 Curtis Hanley – Section Winner
Section 161 Jimmy Whitehead – Finished 4 th
Section 163 Simon Cannington – Section Winner
Section 181 Milan Prosenica – Finished 3 rd
Section 195 Ray McKay – Section Winner
Section 227 Barrie Lester – Section Winner
Men's Singles Knockout Games to be played
08-Jun-2019
09:00 AM Curtis Hanley vs Nicholas Doyle (Bareena, VIC) GCLawn Rink 3
09:00 AM Simon Cannington vs Daryl Read (Takapuna, NZ) PPoint Rink 17
09:00 AM Jerome Coles vs Shaun Scott (Bannockburn, NZ) Robina Rink 17
09:00 AM Ray McKay vs Izzat Shameer Dzulkeple (Malaysia) Robina Rink 3
09:00 AM Barrie Lester vs Dean Gilshnan (Takaro, NZ) Broadbeach Rink 18
Men's Pairs Sectional Results
Section 17 Curtis Hanley & Michael Sims Section Winners
Section 20 Simon Cannington & Jerome Coles Section Winners
Jimmy Whitehead & Ray McKay Finished 4 th (lost to Simon & Jerome 14-16)
Section 54 Barrie Lester & Corey Wedlock Section Winners
Men's Pairs Knockout games to be played
10-Jun-2019
09:00 AM Barrie Lester & Corey Wedlock vs Lee Wesley vs Lee Wesley & Shane Trewarne
Robina Rink 5
09:00 AM Simon Cannington & Jerome Coles vs Marcus Simpson (WA) & Nathan Black (SA)
McKenzie Rink 15
09:00 AM Curtis Hanley & Michael Sims vs Kevin Baguley (NSW) & Barry Hawkins (QLD)
McKenzie Rink 13
Men's Fours Sectional Results
Section 38 J McCarron (VIC), B Hubber (VIC), D McKinnon (VIC), B Lester –Section Winners
Section 60 S Cannigton, J Whitehead, J Coles, R McKay – Finished 3 rd
Men's Fours Knockout games played
07-Jun-2019
Round 1 09:00 AM
McCarron, B Hubber, D McKinnon, B Lester 17
BEAT
M Rais (Malaysia), I Dzulkeple (Malaysia), Z Redzuan (Malaysia), F Muin (Malaysia) 15
Round 2 11.45 AM
J McCarron, B Hubber, D McKinnon, B Lester 9
LOST TO
Z Mikin-Laurie (VIC), P Hall (VIC), N Gosley (QLD), S Curtin ( QLD) 13