The Club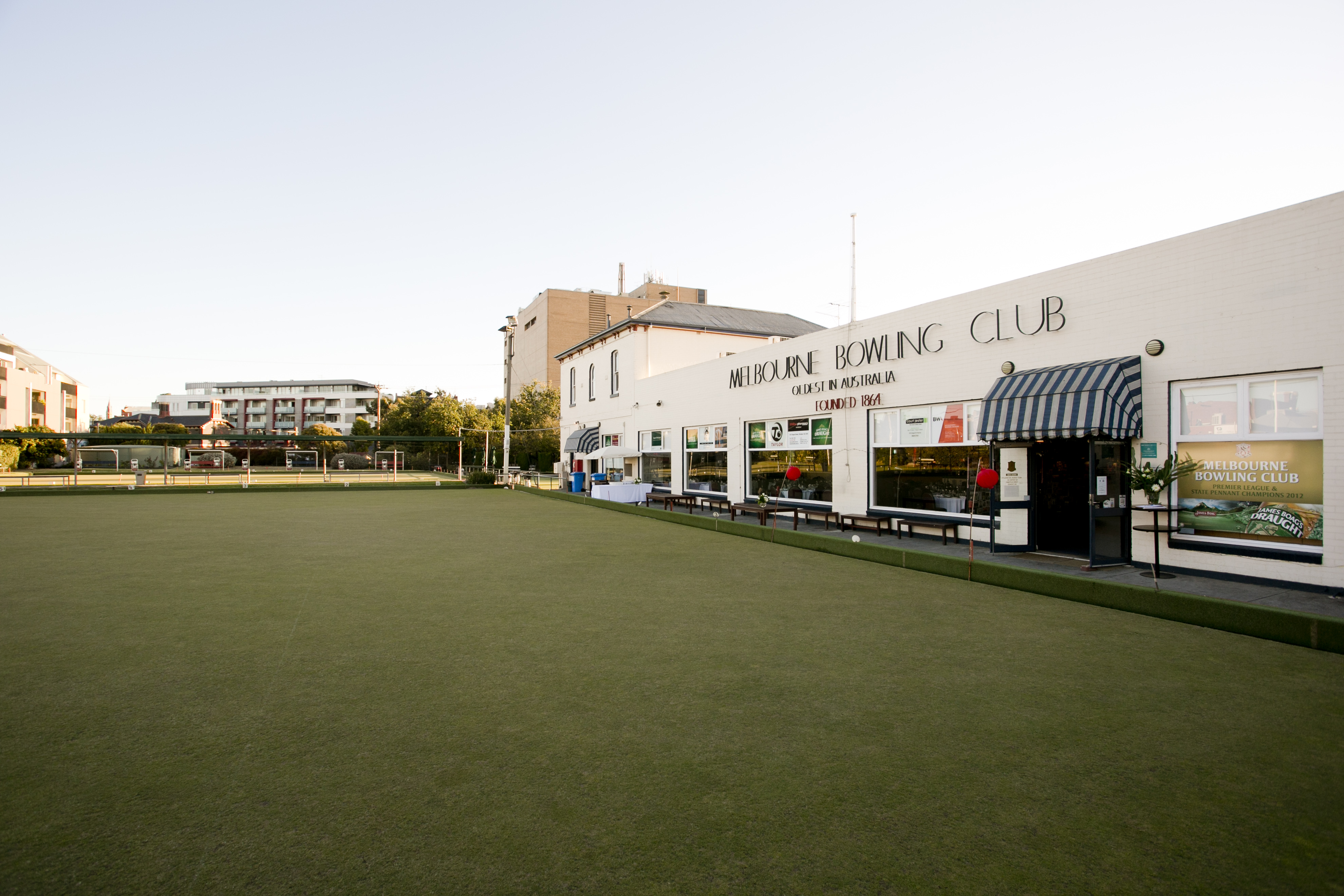 The Melbourne Bowling Club, the oldest in Australia, encourages all visitors to come & enjoy a game or two of lawn bowls. As an incorporated member's club, the Melbourne Bowling Club is a place for members & guests. The Club was founded in 1864 and since then has been a place where members have come to bowl & socialise. We ask that all visitors & guests abide by rules of the Club and act in a way that is mindful of the Club's environment, and respectful to members and other guests.
But you don't have to bowl to enjoy our facilities, you can hire the Clubroom (for large groups up to 300) or the Jack High room (for small groups up to 50) for any variety of events including; birthdays, engagement parties, weddings, reunions, awards nights, product launches, corporate training or workshops, team building plus fund-raising (trivia or games night) to name just a few.
Our Licence Rules and Regulations
As an incorporated club, and to comply with our liquor license, all visitors to the Club are required to sign in. If you come to the Club to bowl, or to attend a function, you will be required to sign-in. We will provide a sign-in sheet for your event, or alternatively you can provide a list of attendees. We use a system of wristbands to ensure guests have complied with these requirements.
For each event at the club we require someone (usually the host or organiser) to sign up as an Access Member.
An access member becomes a member of the club for the duration of the event and is the contact point for any issues during or after the event.
The Club is a fully licensed venue, therefore NO BYO food or beverage.
The Melbourne Bowling Club practices and enforces the Responsible Service of Alcohol, and as such does not serve shots or doubles.
The Melbourne Bowling club has a zero-tolerance policy regarding drug use, and as such, anyone suspected of using drugs at the club will be removed, no refunds will be given in that situation.
Bowling Events
Bowling sessions are allocated in two hourly intervals, longer by arrangement
We charge per person for groups of 70 and under
We provide all the equipment (bowls, mats and jacks)
A Bowls Host is on-hand to explain how to play, how to bowl and assist you during your session
In December the minimum booking is 1 rink with a maximum of 10 guests
Costs
Bowls Season – $20 per person ($200 per rink) (Sep-April)
Winter Season – $10 per person ($100 per rink) (May-August)
Please note that we do not accept individual payments for group over 10, the host will be responsible for the groups payment.
Room Hire Only Events
The Clubroom
The Clubroom can comfortably accommodate up to 120 guests for a seated meal, or up to 300 guests for a cocktail/stand-up function
The Clubroom can be configured in various ways, including lecture style. It can also be divided into two smaller areas if necessary
Tables in the Clubroom are round and seat 8 people only
The Clubroom includes a dance floor and small stage
AV equipment includes; cordless microphone, DVD player, iPod connection, large screen and data projector with a connection for PC (HDMI) and Wi-Fi.
The Jack High room
The Jack High room seats up to 28 guests, depending on configuration, or can accommodate up to 50 standing, if utilizing the courtyard as well
The Jack High room has access to a sheltered courtyard with heaters
Event duration- half day is 4 hours; full day is 8 and evening booking are 5/6 hours
The Jack High Room also features a TV, DVD, data projector with a connection for PC (VGA, no audio) and Wi-Fi.
Bar Service
The clubs well stocked bar has a wide variety of tap and bottled beers/cider and quality wines by the glass and bottle.
You can run a tab during your event as well as a cash bar depending on your needs
Drink Packages
Basic- 3 hours, $50 per person
includes: tap beer/cider, house wine and soft drink
Premium- 3 hours, $80 per person
includes: all beer (tap/bottle), All Cider (tap/bottle), all wine, All RTDs and soft drinks $80 per person
Catering must also be ordered to qualify for a drinks package
Drinks packages are only available to groups who bowl
All drinks packages are served by the glass
Drinks packages are only valid if they apply to the entire group
Catering
Finger Food Packages, BBQ Packages, Carvery Buffet Option,
Finger Food Packages
Finger Food Package 1
Chicken Kiev Balls
Party Pies with Tomato Sauce
Party Sausage Rolls with Tomato Sauce
Mini Dim Sims with Soy
Vegetarian Spring Rolls with Sweet Chilli (V)
$11 per head + Chef @ $100 for Groups under 60 pax
Finger Food Package 2
Cheeseburger Slider
Classic Shepherd's Pie with Tomato Chutney
Mac & Cheese Croquette (V)
Prawn Wonton with Sweet Chilli
Cocktail Falafel with Cucumber Yoghurt (V) (GF)
Vegetable Samosa (V)

$17.50 per head + Chef @ $100 for Groups under 40 pax
Finger Food Package 3
Vegetarian Sushi Bits with Wasabi and Soy (V) (GF)
Selection of Vietnamese Rice Paper Rolls (GF)
Panko Prawns with Mayonnaise
Cocktail Falafel with Cucumber Yoghurt (V) (GF)
Lamb and Rosemary Pies with Tomato Chutney
Mac & Cheese Croquette (V)
Cheeseburger Slider

$24.50 per head + Chef @ $100 for Groups under 30 pax
Finger food is delivered to your table or rink on platters, if you require wait staff to circulate the food throughout your group there will be an addition charge.
Finger Food Additions
Individual Canape Items
Cheese Burger Slider with Pickles, Onions, Relish & Mayonnaise
$4.50 per head
Malay Style Chicken Satay Skewer with Peanut Sauce (GF)
$4 per head
Selection of Mini Pizzas
$3 per head
Dessert Canapes
Selection of Filled Profiteroles
$3 per head
Selection of Petit Four Tarts and Cakes (2 per serve)
$7 per head
BBQ Packages
Build a Burger
150g Beef Burger
Grilled Bacon, Cheese,
Grilled Onions, Tomato, Lettuce,
Brioche Roll,
Pickles, Condiments

$15.50 per head Chef @ $100 for groups under 50 pax
BBQ Package 1
The Classic BBQ
150g Beef Burger
Beef Sausage
Coleslaw
Garden Salad
Grilled Onions
Burger Rolls
Condiments

$18.50 per head Chef @ $100 for groups under 50 pax
BBQ Package 2
Mixed Grill
1150g Beef Burger
Lamb Cutlet
Marinated Chicken Tenderloin
Pork and Fennel Sausage
Potato Salad with Bacon
Garden Salad
Selection of Condiments
Ciabatta Rolls and Butter

$32.50 per head Chef @ $100 for groups under 30 pax
BBQ Package Add-Ons
250g Jacks Creek Sirloin Steak
$17 per piece
110g Pasture-Fed Striploin Steak
$7.50 per piece
Salmon Fillet Centre Cut
$12.00 per piece
Marinated Prawn Skewers
$6 per head
Marinated Chicken Tenderloin Skewers
$4 per head
Select a Salad
Potato Salad with Bacon, Grain Mustard, Spring Onion and Mayonnaise
Traditional Coleslaw
Pasta Salad with Roasted Vegetables, Semi Dried Tomato & Pesto
Caesar Salad with Cos Lettuce, Bacon, Eggs, Parmesan, Croutons & Dressing
Adding any salad is $4.50 per head

Something Sweet Add-Ons
Individual Pavlova, Strawberries, Kiwi Fruit, Passionfruit and Cream
$7 per head
Gluten Free Apple and Walnut Cake
$7 per head
Selection of Petit Tarts, Cakes and Choux Fancies
$7 per head
Fresh Cut Seasonal Fruit
$5 per head
Carvery Buffet Option
Carvery Package 1
Slow Roasted Meats
16 hour Medium Rare Roasted Beef
8 hour Roasted Loin of Pork
Basted Chicken Fillet
Hot Buttered Corn Cobettes
Roasted Jacket Potato with Bacon and Spring Onion Garnish
Garden Salad
Selection of Bread Rolls and Butter
Condiments
Fresh Cut Seasonal Fruit

$38 per head minimum of 30 pax only
Carvery Package 2
Traditional Christmas Luncheon
Roast Turkey
Medium Rare Roasted Beef
Hickory Smoked Leg Ham
Whole Australian Prawns
Chefs Selection of 3 Salads
Traditional Condiments
Selection of Bread Rolls
Steamed Plum Pudding and Custard or Individual Pavlova

$46 per head minimum of 15 pax only
All dietary requirements can be catered for given enough notice.
Finger Food Packages, BBQ Packages, Carvery Buffet Option,
FAQ's
How much time does it all take? It depends. From our experience we recommend the following:
Bowling only – about 3 hours (arrive 30 mins before your session, bowl for 2 hours, last drinks & boasting, then move on)
Bowling & Catering (small groups) about 3.5-4 hours (same as above with an hour to eat, if dining in the clubhouse) small groups may also have their catering served outside
Bowling & Catering (large groups) about 4.5 hours (same as above with an hour to eat plus extra time to organise everyone)
Is there parking available on site?
On-site parking is limited, so we suggest using public transport to get to & from the Club. Close public transport options include:
Windsor Train Station on the Sandringham line
Trams No: 5, 6, 64 & 78
Taxis are easily hailed on Chapel St, only a short distance from the Club
Can I bring my own food to BBQ?
No, our licence and food and safety policies preclude self catering; with the exception of a Birthday cake. We can provide BBQ and other catering packs to suit a variety of needs.
We have never bowled before do we get instruction?
Yes, a bowls host gets you started and is around to help if needed.
What do I need to bring?
We supply all you need for bowling, you just need to bring your mates or work colleagues.
Do I have to bowl barefoot?
Mostly yes. Our bowling greens are living things and most shoes you wear elsewhere can damage the green. If you can't bear the thought of going barefoot, you can wear socks.
What if it rains?
You may get wet, but you may still be able to bowl. If you can't bowl and come to the club you will be charged $5.00 per person. Any difference between that and your deposit can be transferred to a bar tab, or refunded. We have various activities to keep you occupied if required including darts, pool and table tennis.
What happens if I need to cancel?
If you cancel more than 14 days prior to your event, your deposit can be refunded or transferred to another date. If you cancel within 14 days your deposit will not be refunded, but can be transferred to another date.Deposits for cancelled Events in December will not be refunded.
How many people can I fit on a rink?
Ideally, it is an even number of people up to 8, so you can have 2 teams of 4. To accommodate large groups our rinks can hold up to 10 people but no more.
Children are always welcome at the Melbourne Bowling Club, but please be aware that the greens are not playgrounds or parks, and children must be supervised at all times. If they want to get in on the fun we also have some sets of smaller bowls for smaller hands.
Costs & Payments
To secure your event a deposit is required, until the deposit is received the date/time may go to other interested parties.
For events with catering, final numbers and payment must be made no later than 3 days before your event.
Your deposit in non-refundable, but is transferable if you cancel less than 14 days prior to your event
All outstanding amounts are to be paid on the day, at the conclusion of your event
Booking Terms and Conditions
All guests/visitors to the club are required to sign in, in order to meet our liquor license. You can provide a list of guests or we will provide sign-in sheets.
All guests/visitors will be issued with wristbands to show they have signed in.
Any damage incurred is the financial responsibility of the host.
Melbourne Bowling Club has a zero tolerance policy for drug use. If anyone is suspected of drug use on the property they will be asked to leave. No refund will be given in this case.
Management reserves the right to end any function if proper behaviour is not observed, including the removal of any guests. The bar may also shut earlier than advised if guests exhibit anti-social behaviour.
For events with food provided by our in-house caterer, full payment & final numbers plus any special dietary needs are required 5 days prior to your event.
A chef surcharge of $100 is added to smaller groups, you do not get a private chef for your event.
The Melbourne Bowling Club practices & enforces the Responsible Service of Alcohol. As part of this we do not sell "shots" or "doubles".
Car parking at the Club is very limited and at times restricted to members only on Thursday nights and Saturdays.
The Club provides all the equipment required to bowl, as well as instruction at the start and assistance as required during your 2 hour bowling session.
Bowls in best played in teams of 4. We suggest you organise your groups this way to maximise your time and enjoyment while bowling.
If required, the Club can assist in organising round robin or knock competitions. Please advise prior to your event.
If your event does not include bowling (room hire only) or includes use of a room, any decoration or music is to be arranged by the host. Blutac only is to be used on the walls and strictly no glitter or confetti.
The Club has basic audio visual equipment. Please arrange a site visit prior to your event to ensure equipment is compatible with your requirements.
Payment of any outstanding monies is due at the conclusion of your event. We accept cash or credit card (AMEX, Master card & Visa).