"Bear" larger than life in our memories!
Rest in peace.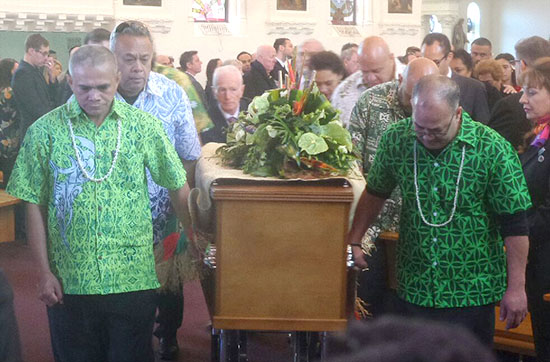 R.I.P. Chris O'Meagher
This man was different wasn't he! There was something special about him that you gravitated to. There was an aura that just couldn't be denied. Was it his stature? Was it that distinct voice? Was it that calming energy that oozed from him? Was it the life experiences and stories he shared? Or was it that you just really wanted to find out what it would actually feel like to be hugged by a real life Bear…? It was probably all of the above wasn't it! But then once you knew him it went further than that… Somehow, he had a special way of making you feel like you were the most important person in the world and that you were the only person on his mind. He didn't achieve this by knocking others, as he was respectful. It didn't happen by him talking about himself, as he was humble. This was achieved by him lifting you and your spirits as high as he possibly could whilst listening intently to you because he was genuinely interested in your life.
There's a famous saying about being present that says "Wherever you are, be there!"And that's exactly what you got every single time you were fortunate enough to spend some time with this mountain of a man more affectionately called "BEAR". He was always "present". He gave you every bit of his concentration because he cared what you were saying. He gave you every part if his being because he cared what you were thinking. Quite simply, he cared! Whether it was to encourage you with your bowls, assist you with some work issues, cheer you up if you were having a bad day, or simply laugh about the dumb stuff. He was right there in your corner. He wasn't distracted and never let the stresses or drama in his own life get in the way of his time with you. He was there with you, and there for you. And amazingly, he was in everyone's corner making us all feel the exact same way all of the time. What a truly amazing man.
Perhaps this stemmed from the wonderful and beautiful family he so openly shared with us. His adoring wife Shirley, his fun, supportive, loveable brothers Michael, Neil, Andrew and Eli, along with his gorgeous sister in law Monika, and just the most amazing parents in Filo and Geoff. The O'Meagher clan is incredible and we're all so fortunate to have been introduced to them.
From Chris's early days working as a notorious bouncer in the toughest bars and nightclubs in Australia, to then taking on the high end world of I.T. and of course being the gentlest of souls out on the bowling green, this man did it all. For the record folklore says that he was equally as successful and revered on all these battlefields. But that's how he rolled wasn't it. He immersed himself in whatever the situation was and found a way to succeed. In recent times we've been fortunate at the Melbourne Bowling Club to witness the vast skills set that helped him achieve such success. His on-green prowess saw him make 3 club singles championship finals in a row winning the first of his 3 attempts, and in a club so rich in talent this was no mean feat. His bowling talent also saw him become a vital member of the recent Premier Division Premiership and State Pennant Champion teams. Later, his team mates would say he wasn't just a great player and a team mate, he was their spiritual leader. He was a power on the green far more than just his excellent shot making. He was the ultimate team man. He wore the club shirt with such pride and when he walked onto a bowling green wearing that mighty blue and red shirt you just knew he wasn't going to leave a single ounce of energy or effort in the tank. Like every other aspect of his life, he gave it his absolute all.
His work around the club as a club coach and subsequent board member was second to none also. He thought innovatively without rest about the different ways he could drive our beloved club forward to a brighter and more successful future. The list of lives he touched is endless and the legacy he leaves behind will be appreciated and respected for generations to come. It's a legacy of excellence and it's a legacy we should all learn from and strive to emulate. His preparation was flawless as he believed that was the key to success. To have made such an impact and leave such a footprint on the oldest club in Australia which was already so rich in history speaks volumes about his efforts.
Through all of this he was probably the most humble person you could ever hope to meet. Everything he stood for was positive, and he always operated from a place of love and respect. He really was the gentlest of giants with a heart of pure gold and his legend will live long that's for certain! We are all so much richer for knowing this great man and we should all be really proud of what our beloved friend achieved. Let's be proud of him for the inspirational fight he fought. Let's be proud of him for the sustained awareness that he created for Pancare. Let's be proud of him for the selfless way he went about raising money for Pancare to help find a cure for the terrible disease that was taking him, and eventually did take him from us. Let's be proud of the way he was a mentor to so many and just the best team mate and club man you could possibly ask for. Let's be proud of him for being the loveable, supportive, caring gentleman that he was. And let's all be incredibly proud to have been able to call this man a friend.
I'd like to share the most profound story that's been shared about the selflessness of this incredible man. He actually told one of his premiership team mates that he was thankful that it was him that had this horrible disease. When he was asked why, he responded "because based on the statistics if it wasn't me it'd be one of my team mates, family members or friends and there's no way I'd want any of them to go through this". That was the level of selflessness he demonstrated and should never be forgotten.
Bear, no doubt you'll be dominating the greens in heaven before too long and have a premiership team of angels around you hanging on every word you say the same way we did. We just hope that one day we all get to have another roll with you somewhere in the future.
So long big fella, you'll be sorely missed xo
(Shane Fordham)