Illustrated Sydney News Saturday 3 February 1877
THE MELBOURNE BOWLING CLUB'S GREEN.
THE old English game of bowls is patronised in and around Melbourne to an extent of which, perhaps, very few persons are aware, who are not members of one or other of the numerous metropolitan or suburban bowling clubs. The game is essentially quiet and unobtrusive in its character, and although healthful, it makes no great demand upon the physical strength of the players. It is thus peculiarly adapted to the requirements of men of business, even of matured, if not old age, who find in the pursuit of this out- door pastime a recreation that calls for the exercise of very considerable skill and calculation in the manipulation of their howls, with just sufficient muscular exertion to be beneficial to the players without unduly fatiguing them.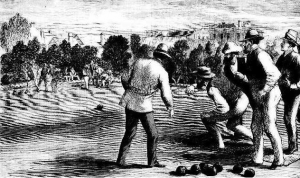 The members of the various clubs form little coteries of men, differing in religion, politics, and in other respects very materially, but these distinctions are unknown on the greens, and all unite in good fellowship when pursuing their invigorating recreation. Our illustration of the game gives a good idea of one of the greens belonging to the Melbourne Bowling Club, which is the oldest established club in the colony, having been founded in 1864 by the late John Campbell. The two greens are on freehold ground belong- ing to this association, and have a frontage to Union-street, Windsor, near the railway station. One green is used for summer play, and is 150 ft. long by 120 ft. broad ; the other, or smaller green, is 134 feet long by 120 feet broad, and, being more thoroughly drained than the larger, it is used for play in winter. A commodious pavilion, with lavatory, &c, has been erected by the club, and on adjacent ground belonging to the Melbourne and Hobson's Bay United Railway Company, permissive occupancy pf which has been granted by the directors, a capital quoiting ground has been formed, and a skittle pavilion erected and fitted, both of which are much used in lh.3 winter. The Melbourne Bowling Club averages eighty-five members, and is managed by a committee consisting of president, vice president, hon. treasurer, hon. secretary, and five members. The club gives a champion medal for annual competition, and the following have been the winners from the com- mencement :-Messrs. Q-. Y. Fishley, R. Greig, G. Young, G. W. Rusden, T. Smith, W. H. Lacey, J. Halfey, W. T. Moffatt (twice), J. Macdonald (twice), and E. Hunt. There is play on the ground daily, and the public are allowed admission at three p. m.